Case study: A pilot to test whether technology can recognise safety hazards within the workplace
16/03/2023
Computer vision company Matroid was selected to pilot their technology for Service Center Metals (SCM), a leading aluminum extrusions and billet provider, to test whether its technology could recognise safety hazards within the workplace.
The Challenge
This pilot was part of a National Safety Council (NSC) and Safetytech Accelerator programme to help employers trial and adopt safety technology to save lives. This is being done through the NSC Work to Zero initiative.
Preventable deaths in the workplace rose 9% in 2021 from the year prior, with the construction industry experiencing the highest rate of preventable workplace fatalities. This pilot focused on identifying technologies with the potential to prevent fatal incidents associated with working at height, a leading cause of workplace fatalities in the construction industry.
According to Work to Zero's director Emily Whitcomb, "The stagnant trend in workplace fatalities is a cause for concern for many EHS professionals, and there are technologies on the market today, such as drones and computer vision software, that can reduce or even eliminate the risk to the worker."
In this particular challenge, SCM had added airbags to their trucks to reduce worker injuries and make working at height safer. However, they were not able to determine whether the airbags were properly inflated. They wanted to find a way to guarantee that the equipment was being used correctly.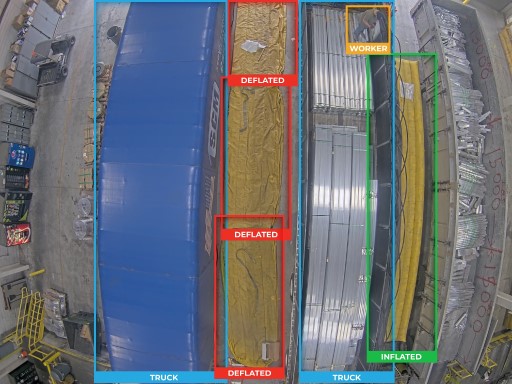 The Pilot
Through its advanced computer vision AI technology, Matroid assists companies in meeting their safety goals by identifying and monitoring various work conditions through real-time monitoring and alerts. 
SCM worked with Matroid in 2022 to detect the presence of safety hazards when working at height in SCM's shipping and receiving bays as part of the NSC and Safetytech Accelerator pilot programme.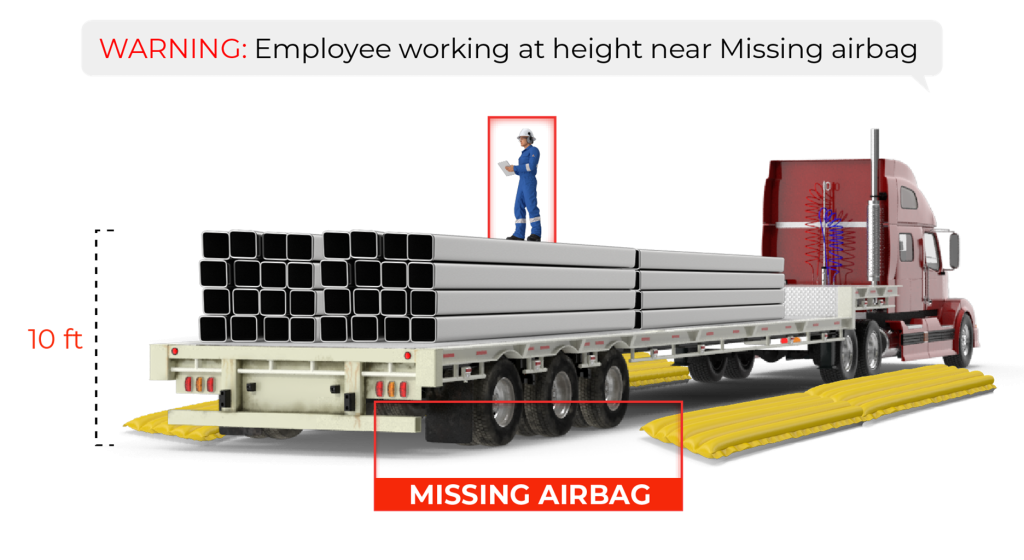 Matroid's computer vision software empowered SCM to build its own computer vision models to detect critical safety issues quickly and accurately, like deflated or missing airbags. Deployed within one of SCM's production facilities in real-life settings, Matroid's technology was also configured to trigger alerts and notifications when violations would occur.
To achieve this, Matroid used SCM's pre-existing truck bay cameras, reusing the existing video system and upskilling it to be proactive versus reactive/forensic. Its computer vision solution was connected into SCM's 12 pre-existing Axis video security cameras. Matroid used a few hours worth of recorded video from the various truck bays to train the computer vision AI. Due to the efficiency of the technology, the trained model was out within three days and only required up to two hours a month for refinement and maintenance. 
Due to the expansive detection capabilities of the computer vision, the airbag detector can be deployed anywhere where individuals are working at height and have a risk of falling, especially in situations where they cannot be safely harnessed.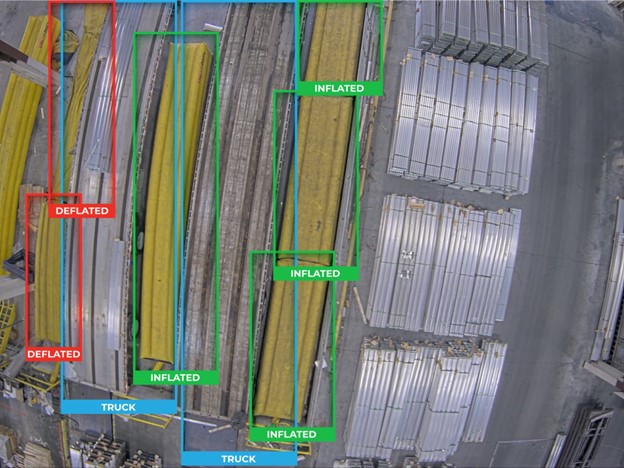 The Results
The results generated by Matroid's applications indicated that a high frequency of airbags were not properly deployed while trucks were on site. Matroid detected nearly 100 instances of this on just one receiving bay and a total of 253 violations across five receiving bays.
Uncovering these hazards led to Matroid connecting to SCM's EHS notification system. Now, when "Airbag Deflated" and "Truck" are detected simultaneously, an alert immediately notifies the EHS team and shift supervisor for the respective truck bay to stop operations and ensure that the airbags are properly inflated.
"Prior to installation of the Matroid computer vision system, SCM struggled to maintain a rate of inflated airbags above 25% within a day. Now the majority of our loading bays stay consistently at 100% inflated," says Evan Neale, Environmental, Health and Safety Manager at SCM. 
"Our team members and leadership have embraced this technology to improve the safety and efficiency of the shipping department. Just in this pilot, the technology has proven its tremendous potential for all aspects of our business—most importantly to the health and safety of our team."
As a result of this project, SCM has signed an annual extension with Matroid to monitor their trucking bays and conduct other safety and manufacturing-related detections, including detecting unsafe human behavior when working with casters, detecting raw material, tracking inventory, and more. Furthermore, SCM is now detecting flame bursts in furnaces, material defects, inventory counting and more operational and efficiency based use cases with Matroid.
"This pilot clearly illustrates the capacity for computer vision to provide actionable insights to improve safety and efficiency throughout manufacturing and shipping operations. One of the biggest highlights of this engagement is that the use of computer vision AI to help with bottom line efficiency also enables the system to cover its own cost when it comes to safety applications, allowing organisations like SCM to save money and time while keeping people safe," says Jeff Zeller, Head of Sales at Matroid. 
"We're excited to continue our relationship with SCM through 2023 and to further drive operational efficiency and increase worker safety."
Nadia Echchihab, Head of Innovation Programmes at Safetytech Accelerator had this to say about the project, "I'm always delighted to see instances where the work we do makes a real tangible difference to the safety of workers. We look forward to hearing more about Matroid's successes in this area."
>>>>
About the National Safety Council
The National Safety Council is America's leading nonprofit safety advocate – and has been for over 100 years. As a mission-based organization, we work to eliminate the leading causes of preventable death and injury, focusing our efforts on the workplace, roadway and impairment. We create a culture of safety to not only keep people safer at work, but also beyond the workplace so they can live their fullest lives.
Connect with NSC: Facebook / Twitter / LinkedIn / YouTube/ Instagram
About Matroid
Matroid can monitor any live stream or search recorded video, providing real-time notifications when events of interest have been detected. Customers use Matroid in security, construction, public relations, healthcare, and more, reducing operating costs associated with manually searching through video footage, thereby increasing efficiency, safety, and regulatory compliance in an ethical manner.
Matroid is a leader in machine learning and big data with published research, textbooks, and multiple computer vision patents pending.
For more information, please visit http://www.matroid.com
Connect with Matroid: LinkedIn / Instagram
About Service Center Metals
Service Center Metals is an aluminum extrusion manufacturing plant headquartered in Prince George, Virginia. Their Compact Remelt Plant is the world's largest horizontal log casting plant. The SCM Team is a leader in safety, customer service, product quality, and operational efficiency.
Find out more at https://www.servicecentermetals.com/
About Safetytech Accelerator
Safetytech Accelerator is a non-profit established by Lloyd's Register. It is the first fully dedicated technology accelerator focused on safety and risk in industrial sectors, with a mission to make the world safer and more sustainable through wider adoption of technology.