Transforming food safety, assurance and compliance using AI technology
25/02/2021
This pilot sought to explore how a new AI solution could improve automation of safety and compliance checks in the food industry.
The Challenge
Food safety is gaining importance, as consumer awareness of the links between lifestyle choices and associated risks is getting more sophisticated by the day. This has been supported by the improvement of information supplied on, for instance, food labels in response to higher consumer demand for transparency, backed by industry standards and regulations.
Accredited firms analyse many datapoints in order to provide assurance against these standards and regulations. Datapoints include policy, systems, documentation, internal audits, third party audits and risk management. There was an opportunity to explore how this process could become less resource intensive – a need which became more urgent as the limitations of the Covid-19 pandemic started to be felt. As manufacturers increasingly embrace digitisation of their supply chains there is also opportunity to use their data more efficiently to reduce risk in food supply chains.
This challenge sought to explore how cutting-edge technologies from other sectors could be applied to increase automation of compliance and assurance in the food industry. The project sought to draw data from assets, procedures and people, to give producers, assurers and distributors increased efficiency and provide real-time insight of safety and compliance of their products – to the ultimate benefit of the consumer.
The Solution
Lloyd's Register defined the parameters of this industry challenge and, in collaboration with the Safetytech Accelerator and programme partner Plug and Play, shortlisted viable global safetytech startups to tackle this challenge. After a competitive selection process, London-based startup AiXPRT was chosen to progress to a three-month funded pilot.
AiXPRT provides Artificial Intelligence (AI) solutions to automate regulatory compliance assurance and financial audit. More specifically, their solutions automate the compliance testing of enterprise documents.
AiXPRT adapted their proprietary AI engine to the working practice in food safety to show how natural language processing and analytics can interpret information and prove regulatory compliance against a variety of standards in a fast and cost-effective way.
The Pilot
Many of the current activities in the certification audit process are manual and time consuming. One example within the food sector is supplier verification audits, which require various documents from suppliers to be checked individually for compliance against criteria linked to a given standard.
The audit process includes many challenges with internal and external impact which could be addressed with automation:
Internal impact
The supply chain does not fulfill all the data requirements for initial audits which can create delays.
Significant auditing time and effort is spent reviewing and verifying data.
Identifying key missing data and communicating this back to the supplier adds more delays.
There is potential for human error with any manual verification activity which carries a level of risk.
There is no standardised data format from suppliers and so data is inconsistent.
External impact
Supply chain partners frequently do not understand their regulatory and data deficiencies because of the structure and volumes of documentation.
Delays in certification can occur which have a knock-on effect on subsequent activities.
Lloyd's Register is impacted directly from a branding and client relations perspective.
The Accelerator and AiXPRT worked collaboratively, with LR providing all the data required to ensure a successful deployment. They completed the work using internal and anonymised client data and LR evaluated the AiXPRT solution's capability to address the challenge.
The aim of the pilot was to test the effectiveness and speed at which the AiXPRT engine could be trained correctly, and to determine the efficiency of correctly verifying documents on first attempt.
AiXPRT deployed its platform – built on Natural Language Processing and Machine Learning – alongside LR for three months, using documents and data provided by LR during the trial. Both organisations worked together to ensure the technical development of the compliance engine fulfilled the needs of supply chain verification.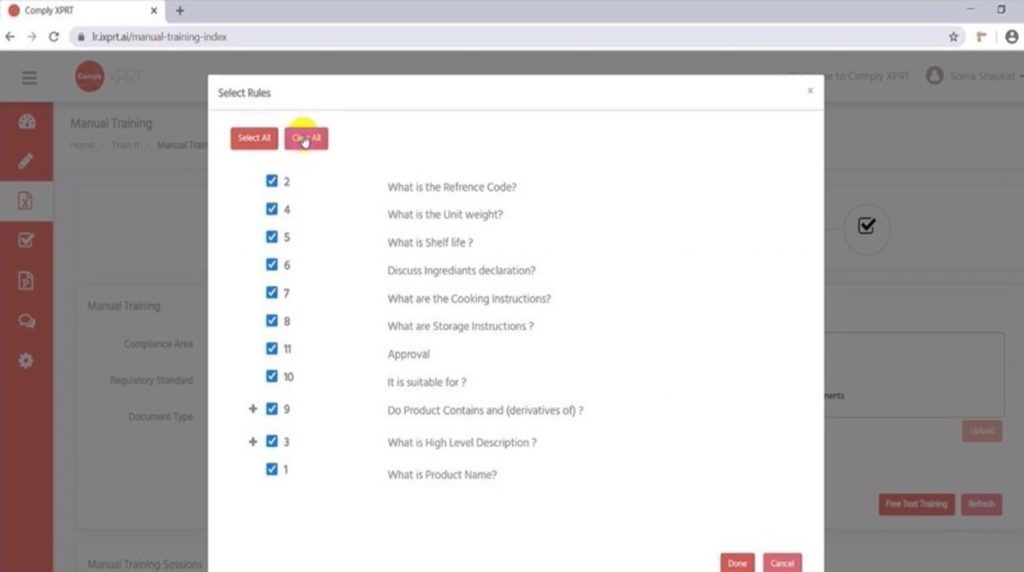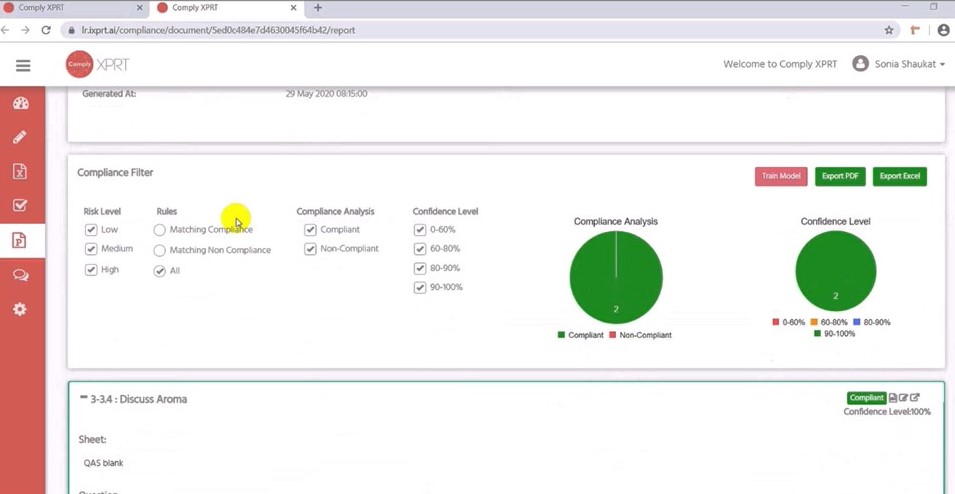 Jose Mella of AiXPRT, said, "It's good to see Safetytech Accelerator and  Lloyd's Register reaching out to new technologies and having the vision to see how it would benefit industry, and we were very happy to be part of it. In collaboration with Lloyds Register, we have successfully taken a mainly manual process and created a dynamic AI enabled audit assurance application which has greatly decreased time and cost and improved the accuracy of LR's current audit process."
Results
By using AiXPRT and its natural language processing capability, LR was able to define the unstructured data often held in forms and documents. This allowed a previously manual process to be digitised in its entirety.
The objective for LR was to establish a technology that would mitigate risk and improve safety. The AiXPRT technology provided a new means of reviewing regulatory documents in multiple formats and across different industries, ensuring enhanced risk mitigation for not only LR customers, but the whole industry.
The speed of the platform was proven, with tasks previously taking days now being completed in hours:
28 paired documents would be verified for compliance in 2 hours 30 minutes, an average processing time of 5.4 minutes per document set.
In comparison, 1 paired document would be verified by a Quality Auditor in 40 minutes.
AiXPRT was able to successfully compare the data from an auditor's technical report and corresponding supplier document in 5 minutes, including referencing the appropriate naming convention, upload, parsing and running the verification. The system was set up such that existing rules could be modified and new rules could be configured easily. This proved that the AiXPRT NLP engine can have multiple applications in various environments, irrespective of the data or document format.
Industry-Wide Impact
"AiXPRT's technology has wide reaching applications across the manufacturing supply chain space and can help significantly with optimising compliance and verification processes. This platform has clearly demonstrated that it can save both time and resource, and can allow organisations to operate more efficiently," said Amar Dhokia, Technical Innovation Specialist at Lloyd's Register.
About the Safetytech Accelerator
The Safetytech Accelerator is a dedicated open, not-profit initiative created by Lloyd's Register Group and Lloyd's Register Foundation, bringing together corporates, startups and the wider technology community to collaborate and accelerate the adoption of safetytech in safety-critical industries.
In early 2020, the Accelerator was awarded the Global Lloyd's List Award for Excellence in Data and Technology Innovation, in recognition of its excellence and impact in innovation, setting it apart from the competition worldwide. The industry-leading panel felt that the programme, the first of its kind globally, embodied everything that the Lloyd's List Awards were established to champion, displaying important and impressive global impact for safety and risk in critical industries, including the maritime sector.