Report: Fatigue Risk Management – Applying a data-driven approach to fatigue in the maritime industry
10/06/2021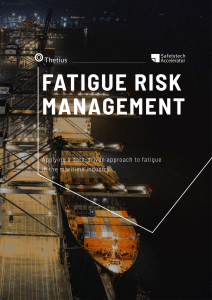 Fatigue science has advanced a great deal in recent decades. Much has been discovered recently about the impacts of cumulative fatigue, not just on day-to-day decision making but also on long-term health. To date, very little of that science has been applied effectively in the maritime industry.
This problem is further compounded by the crew change crisis caused by the global pandemic in 2020. Maritime workers, both in port and at sea, are key workers who have worked throughout the pandemic. Many seafarers have been forced to work without going home for a period of over twelve months. Increasing our collective knowledge of fatigue is crucial if we are to understand and mitigate the growing risk of an overly fatigued maritime workforce.
This report, published in partnership with Thetius, explores:
The impact of fatigue in the maritime industry and compare the fatigue management practices used, both in ports and at sea, with emerging practices from other industries.
The discipline of fatigue risk management, and how this goal-based approach to managing fatigue has enabled operators in safety-critical industries to increase productivity while reducing safety and fatigue risks
How fatigue risk management principles can be applied to the maritime industry, including best practices for understanding fatigue risk, the role of technology in fatigue management, and the role regulators can play in advancing this critical area of work.