Webinar replay: Being a Safetytech Entrepreneur
26/05/2022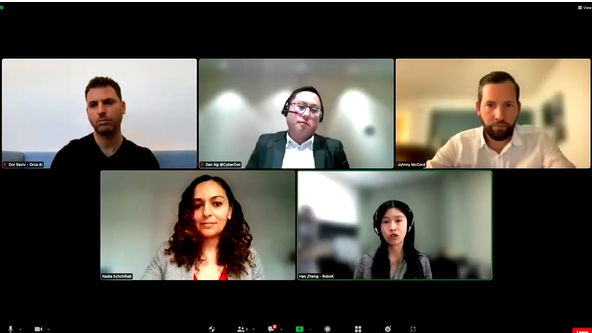 In May 2022 we brought together thought leaders from businesses and institutions to debate where and how digital technology and innovation is transforming the way industry manages safety, risk and resilience in the face of increasing business complexity and new social and sustainability imperatives.
In this webinar we discuss with four safetytech entrepreneurs what it's like to be in their shoes – and the unique opportunities and challenges they face.
Being a Safetytech Entrepreneur
Safetytech are digital technologies applied by businesses to tackle safety, risk and resiliency challenges. In 2020 Lloyd's Register Foundation estimated that Safetytech could be worth hundreds of  billions dollars globally.  We all know about tech entrepreneurs, but what is different about being an industrial safetytech entrepreneur? What are the opportunities and challenges in industrial safetytech? In this session, moderated by Safetytech Accelerator, we discussed what we mean by industrial safetytech, presented a panel discussion with four safetytech entrepreneurs.
Moderated by Nadia Echchihab, Head of Innovation Programmes at Safetytech Accelerator, our panellists included:
Hao Zheng, CEO & Founder at Robok
Johnny McCord, CEO & Founder at Loadsure
Daniel Ng, CEO & Founder at Cyber Owl
Dor Raviv, CTO & Co-Founder at ORCA AI
Watch the recording now
The webinar was held as part of the Lloyd's Register Foundation Safer World Conference 2022. 
Biographies
Nadia Echchihab, Head of Innovation Programmes at Safetytech Accelerator
Nadia Echchihab is a passionate tech advocate, enthusiastic about the possibilities of tech to solve important problems. Her background includes working in innovation management within a French tech cluster in Paris and the UK Connected Places Catapult where she oversaw global projects accelerating UK tech companies in the urban innovation sector. At Safetytech Accelerator, Nadia is Head of innovation programmes and leads on the delivery of flagship projects such as Waypoint, a commercially focused initiative bringing together startups and industry to jointly solve maritime risk and safety challenges.
Hao Zheng, CEO & Founder at Robok
Hao Zheng is the co-founder and CEO of RoboK, a VC-backed Cambridge University spinout building AI-enabled computer vision software solutions to improve safety, security and efficiency in large-scale, dynamic and safety critical environments. The company's cost-effective smart vision technologies are currently adopted by major transport and logistics companies. Hao holds an MPhil from Cambridge University and prior to RoboK, worked in project management and consulting for organisations including Arm and Deloitte.
Johnny McCord, CEO & Founder at Loadsure
A cargo insurance innovator, Johnny is focused on evolving centuries-old insurance traditions to deliver greater efficiency and effectiveness to the market while holding onto a human-centric approach. His end-to-end digital cargo insurance solution, Loadsure, was the only Lloyd's of London coverholder approved in 2019. It was also a Lloyd's Lab selection, 2021 InsurTechNY Early-Stage InsurTech Competition winner, and runner-up for Insurance Insider's 2020 Disruptor of the Year Award. Previously a cargo broker with Lochain Patrick and a founding member of Roanoke International, Johnny brings 18 years of cargo broking experience to the fore.
Daniel Ng, CEO & Founder at Cyber Owl
Dan is CEO of CyberOwl, a disruptive startup helping asset operators gain visibility and address the cyber risks to their distributed, remote assets, particularly in the maritime sector. Dan was previously Associate Director at KPMG, where he focused on the Defence, Security and Industrial sectors, working extensively to develop propositions and commercial strategies for global security, defense, technology and engineering companies such as Northrop Grumman, BAE Systems, Atos and BP. Dan was also Chair of a Working Group at the IoT Security Foundation, Council Member of the Digital Technology Group of the UK Society for Maritime Industries and Steering Committee Member for the Operational Technology Cyber Security Alliance. He is regularly recognised as a technology leader influencing the sector, including the FT 100 Most Influential BAME Leaders in Technology in 2019.
Dor Raviv, CTO & Co-Founder at ORCA AI
Dor Raviv is a maritime expert and the CTO and co-founder of ORCA AI, the developer of the advanced smart navigation platform for the shipping industry. His passion for the sea began at a young age, where he sailed with his family for more than 40,000 miles around the world. Dor brings vast experience as a deep learning engineer from top tech companies in Israel, such as Cortica and Orcam, both companies are leaders in artificial intelligence. Dor Holds a B.sc in industrial engineering and management, specializing in big data and deep learning algorithms.