Webinar replay: The Future of Industrial Safety
10/06/2022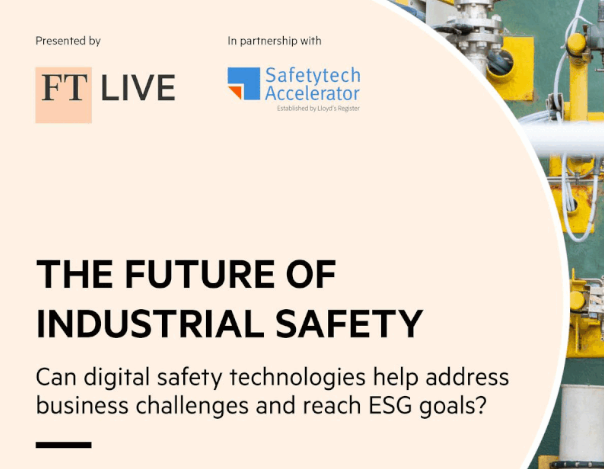 In May 2022 we brought together thought leaders from business and institutions to debate where and how digital technology and innovation is transforming the way industry manages safety, risk and resilience in the face of increasing business complexity and new social and sustainability imperatives.
The event was held as part of the Lloyd's Register Foundation Safer World Conference 2022. 
The Financial Times, in partnership with Safetytech Accelerator, hosted this multi-sector conversation with leaders in maritime, construction, government agency and technology, sharing real-life stories and experiences from the front line.
The Future of Industrial Safety – Can digital safety technologies help address business challenges and reach ESG goals?
Register to watch this discussion to explore ways to build resilience and achieve better, safer and more sustainable outcomes for your workforce, organisation and the wider world.
Moderated by Harry Dempsey, Industry Reporter at The Financial Times, our panellists included:
James Pomeroy, Director Global Health and Safety at ARUP
Pradeep Chawla, Managing Director, Group QHSE and Training at Anglo-Eastern Ship Management
Emily Whitcomb, Director, Work to Zero, National Safety Council
Maurizio Pilu, Managing Director at Safetytech Accelerator
REGISTER BELOW TO WATCH A RECORDING OF THE WEBINAR
Biographies
James Pomeroy, Director Global Health and Safety, ARUP
James has been involved in leading safety and risk management programmes internationally for nearly 30 years. He has worked in a variety of sectors including major infrastructure, heavy manufacturing, marine and aerospace. He has a particular interest in using technology to improve safety outcomes. He has degrees in sustainable business, international environmental law, and safety and risk management. He is a Fellow of IOSH and IEMA, the bodies for safety and environmental professionals.
Pradeep Chawla, Managing Director, Group QHSE and Training, Anglo-Eastern Ship Management
Pradeep Chawla is the Group Managing Director, QHSE and Training, with the Anglo Eastern Univan Group. He oversees QHSE and Training for over 650 vessels and overlooks the training and development of over 28,000 sailing staff and 1,700 shore managers. He has conceptualized and implemented IT platforms for a Learning Managing System, a competence Management System, Virtual Reality Training System and Gaming Apps. He serves as an invited member in the Shipping Consultative Committee to the Hong Kong Government and is the Chairman of Global MET Association, which is an association of over 60 training institutes in the world. He has, in the past, served as a Vice-President and Council member of the Nautical Institute, UK. He is a member of the Intertanko Human Element Group and member of the Intertanko/OCIMF Steering Group on Human Element. He is the Chairman of the Standard Club Safety and Loss Advisory Committee – Asia. He is also a member of the Expert Group of BIMCO Key Performance Indicators program. He wrote a book on safety at sea, called "Jahaz par Suraksha" in Hindi in 1992.
Emily Whitcomb, Director, Work to Zero, National Safety Council
Emily Whitcomb joined the National Safety Council in 2014 as a Research Associate. In 2016, Emily joined the Advocacy Department to launch the fatigue initiative and lead the development of several key resources including the fatigue cost calculator and fatigue risk management toolkit. In 2019, Emily became Director of the Work to Zero Initiative, which is focused on identifying promising technologies for eliminating workplace fatalities. Emily has a Masters of Public Health from the University of Illinois at Chicago.
Dr. Maurizio Pilu, Managing Director, Safetytech Accelerator
Dr. Maurizio Pilu is a digital technologist and technology and innovation executive with 30 years experience. After gaining a PhD in Artificial Intelligence at Edinburgh University he joined Hewlett Packard Laboratories in Bristol and Paolo Alto, CA, where he invented, published and commercialized a variety of cutting edge imaging technologies. After an Executive MBA, he moved on to early stage venture capital where he was in charge of deep-tech investments. After being involved in high profile projects at InnovateUK, the UK's Innovation Agency, and the UK's frist-ever national digital innovation centre, Digital Catapult, he moved on to Lloyd's Register as VP of Digital Innovation with the brief to create and run its first ever digital innovation practice and contributing to transforming the business. As part of that he created Safety Accelerator. Maurizio has 50 patents, 35 academic publications, secured over $100m of investments for programmes and ventures and his work has featured in the FT, Guardian, BBC.
REGISTER BELOW TO WATCH A RECORDING OF THE WEBINAR