Webinar replay: Working at height – technology showcase
18/03/2022
Working at height is dangerous. Technology is changing that – watch the replay of this webinar where we showcased cutting edge technologies in this area. 
The National Safety Council (NSC), America's leading nonprofit safety advocate, through its Work to Zero initiative in collaboration with Safetytech Accelerator are piloting a program to help employers trial and adopt safety technology to save lives, in this case in the area of working at height. Accidents related to working at height are the #1 cause of workplace fatalities after road accidents.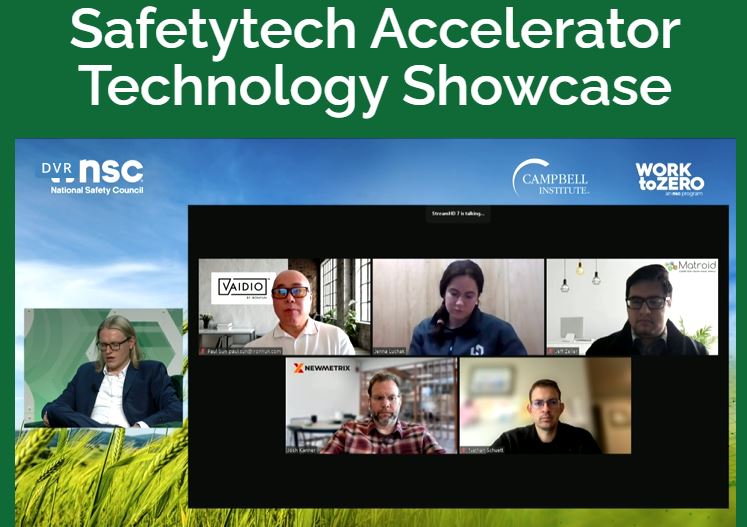 This collaboration aims to eliminate workplace fatalities by 2050. This phase of the program aims to promote and utilise technology to lower the risks associated with working at height, both for large companies but also attempting to remove barriers for the use of technology for SMEs.
Safetytech Accelerator chose two types of technologies with the potential to improve the safety of working at height in the short term. The first area of focus is drones, in particular to perform routine surveillance tasks, which have the potential to decrease the time workers have to be at height. The second area is computer vision software using artificial intelligence to spot dangerous situations, which also has the potential to increase the safety of workers at height by spotting dangerous situations more efficiently than humans, and analysing and intervening.
Watch this showcase where we presnt pitches from 6 companies on the cutting edge of making working at height safer through technology. We were joined by speakers from the following companies:
Hausbots
Upteko
Prenav
Matroid
Ironyun
Newmetrix
This showcase was part of the 2022 Work to Zero Summit & Expo which brought together EHS professionals, researchers and technology solution leaders for a landmark event – the first of its kind to be focused solely on the intersection of safety and emerging technology.
Drop your details into the form to receive a link to the recording.