Meeting a shipmaster to discuss the challenges around fires onboard ships
10/07/2023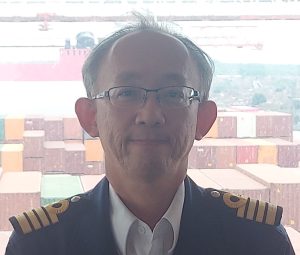 Recently our Head of Maritime Engagement, Rich McLoughlin, also the programme director for our Cargo Fire and Loss Innovation Initiative (CFLII), visited the container vessel 'ONE TRIUMPH' in Southampton. He had a chance to speak to Captain Kunihiko Nishimura from Mitsui O.S.K Lines (MOL) to discuss fire-safety onboard, and areas where technology could possibly make a difference.
Shipmasters typically have many considerations in leading their ship and crew, but the safety of crew would always be their first priority. Safetytech Accelerator has a legacy of working with safety technologies in the maritime sector, and a special area of interest is cargo fire and loss, which has spawned an initiative specifically dedicated to the cause: The Cargo Fire and Loss Innovation Initiative (CFLII), which was launched at the beginning of 2023.
The Cargo Fires & Loss Innovation Initiative is a collaborative technology acceleration programme to address current challenges and thereby prevent large scale cargo fires and cargo loss.
Carriage of dangerous goods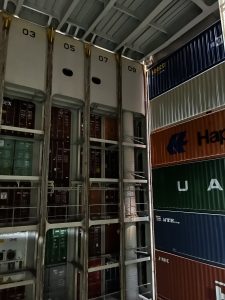 This is a primary area of concern and, having previously worked in the cargo planning department, Captain Nishimura is certainly familiar with the complexities around segregation and separation of cargoes for fire-safety reasons. This is of particular importance when considering larger twin-island containerships where there is separation between accommodation and machinery spaces.
He was quick to raise that the carriage of dangerous goods is one of the main causes of fires onboard. He mentioned an instance of a port container fire which was caused by lithium-ion batteries, which have become an increasing risk in the industry, as well as many other dangerous items such as chemicals and flammable goods.
Accessibility
He pointed out that fires in containers can be tackled, provided they are accessible. If crew can reach a deck container in time, they have the means to directly attack the fire and also to provide external cooling with water monitors.
The availability of cold-cutting lances can also be used to safely cut into a container to discharge either watermist or other fire-fighting medium.
Fire and smoke detection
Detecting smoke or fire on deck remains a challenge, and Captain Nishimura sees many opportunities for improvement here. This is because currently for deck cargoes, early detection is based on crew observations through deck-rounds or observations from the wheelhouse – which leaves plenty of room for error.
He says, "If we could monitor containers using infra-red devices or another detection technology, this would give us advance notice of a heating issue either when loading or, during the voyage".
If a fire were to break out in a container inside the cargo hold, this would be an even more difficult situation, one that Captain Nishimura says he would not like to have to deal with.
"Here our options are limited and the outcomes not certain. Any fire should be detected by the sample smoke detection system and from there we'd need to contain the fire using a controlled, staged release of carbon dioxide (CO2) into the cargo hold".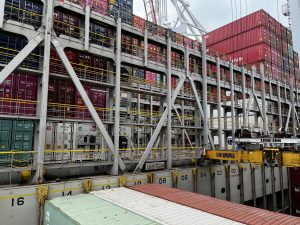 With no other means to fight cargo hold fires, and a detection system based on smoke sampling, it is likely that any cargo hold fire alarm would be too late to allow direct action or prevention of growth of the fire in the cargo hold. This is another area in which he is keen to explore technologies which could make a difference.
This view is echoed by Mr. Shunsuke Fujisaki, Manager HSEQ at Ocean Network Express (ONE) who are participating in the CFLII.
"The present technology for detecting fire in the cargo holds is sampling the smoke. This method has not changed in many years. On the other hand, there are many technologies to detect fire. However, because fire is detected after it has already grown quite big and the smoke has widely spread, the crew can only firefight by using a fixed CO2 system or flooding the hold with sea-water. If we found new methods to detect fire in cargo holds in the early stage, it could make our vessels safer."
The CFLII has identified several of the most important opportunities to explore the application of emerging technologies in the area, and this work is now well underway. You can find out more about this open-innovation initiative here.
Thanks to MOL and ONE for providing vessel access to confirm operational and technical aspects related to the challenge of 'Early-stage fire detection in cargo holds' and to Captain Nishimura and Mr. Shunsuke Fujisaki for their comments and assistance.