Developing ship-handling skills using virtual reality
03/03/2022
This pilot was a collaboration between Safetytech Accelerator, The Nautical Institute, Anglo-Eastern, Teekay Gas and MOL-LNG, to explore Virtual Reality (VR) solutions with the aim of improving ship handling capabilities at sea.
The Challenge
The Nautical Institute set a challenge to Safetytech Accelerator to explore if and how some of latest training technologies could provide affordable, accessable and effective supplementary training methods.
Maritime education and training has typically been conducted at dedicated simulation facilities and onboard actual vessels. In recent years, opportunities to use these facilities has reduced due to tighter voyage schedules and availability of senior support staff. More recently the global pandemic limited physical training due to travel restrictions and social distancing.
Safetytech Accelerator  started a search for technology companies focused on novel training solutions with deep maritime knowledge and after an extensive search identified UK-based Kilo as an ideal candidate for a pilot.
The proposed approach by Kilo was to investigate whether VR technology, delivered via a non-tethered headset, can provide mariners with an immersive environment sufficient to develop the skills needed for conducting ship handling manoeuvres.
The Pilot 
Kilo chose the Oculus Quest 2 as the VR Headset for this pilot. A leading, mid-range, off-the-shelf robust VR headset that provides high levels of graphic fidelity, good user feedback and the necessary flexibility.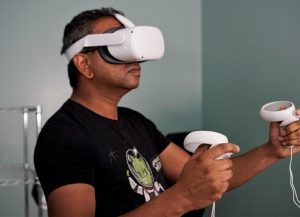 The proof of concept was focused on the capabilities of VR as a training tool, and its ability to provide mariners with the opportunity to experience how forces external to a ship are countered by internal capabilities and controls. Kilo seconded a senior master mariner with 18 years' experience of ship handling on various vessel types to the development team. This enabled real-time guidance and continual technical critique of the experience as it advanced throughout the multiple build stages of the proof of concept.
A fictitious port location and a generic ship were modeled as the operating environment. This helped focus the mariners on the core elements of controlling the vessel within different climatic conditions.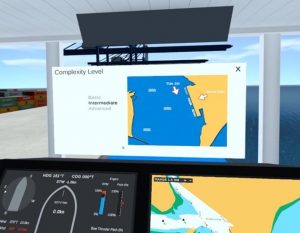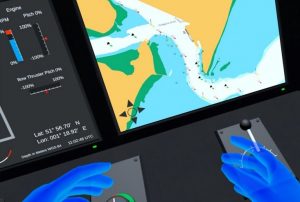 The manoeuvring controls and supporting console displays were designed and included to support the realism of the experience and to provide information that is directly applicable to the operating environment. As this was a proof-of-concept the bridge design was kept simple and clean, with the minimum level of equipment and complexity for the training scenarios. 
Results
The capabilities of the solution were evaluated by a group of 9 stakeholders including Anglo-Eastern, Teekay Gas, MOL-LNG and the challenge owner, The Nautical Institute . The evaluation required ship handlers to vitually manoeuver the moored ship away from a pier and into a navigation channel. Once out in open waters, the mariner could perform manoeuvers of their choice before returning to berth the vessel. Three levels of environmental conditions were offered to test the mariner's skills in a variety of weathers. The whole evaluation process lasted about half a day for each mariner.
All the participants felt they understood the training objective, and 78% of the participants rated the sense of "being in control of the vessel".
"Over and above any CBT I've tried; this application really gives a sense of immersion that translates to a real feel of control" 
"The bow thruster felt a little underpowered, but I did notice that the pivot point shifted aft with a kick ahead on the telegraph, which is definitely realistic"  
"The effect of wind on the lateral motion is higher than normal and the effect of current is below normal"  
Before taking part in the test, only 33% of the participants rated their advocacy for VR training as high, after the pilot this transformed to 66%.  
"I see a huge potential in the use of 'good quality' VR for the future of a wide range of VR training applications."  
"This training format, while still technically in its infancy, has true transformative potential"  
The 'proof of concept' was intentionally limited in time and scope, however it needs to be recognised that with these limitations the majority of respondents considered the feeling of the 'pivot point' and 'transverse thrust were either partially or not accurate.  
Industry-Wide Impact
The proof of concept demonstrates a number of potential opportunities but also the limitations of this technology:
"We spend hundreds of thousands of dollars per annum on simulation training for initial and recurrence training of marine pilots including travel, hotel and accommodation expenses. We use simulation for advanced threat and error management training in addition to port development trials. Being able to do it virtually from our own office, whilst also bringing in stakeholders to participate remotely would be advantageous."  
"An excellent 'proof of concept' for VR Ship handling. This un-tethered approach is first to market, and should be getting significant attention by the flag states for Ship handling / BRM utilization." 
VR is only going to get better. Realistic models and the way they are rendered will continuously improve as hardware and software rolls forward, which further reinforces the logic for exploring this technology as a sustainable solution for delivering innovative maritime training solutions.
"This training format, while still technically in its infancy, has true transformative potential."  
If you'd like more information, you can access a webinar on this case study here.
***
 About The Nautical Institute
The Nautical Institute is a non-governmental organisation (NGO) with consultative status at the International Maritime Organization (IMO). Their aim is to promote professionalism, best practice and safety throughout the maritime industry and to represent the interests of their members.  
About Kilo
Kilo create contemporary communication and training solutions for the maritime sector. They are focused on helping their clients achieve safe, secure, and competent working environments.
About Safetytech Accelerator
Safetytech Accelerator is a non-profit established by Lloyd's Register. It is the first fully dedicated technology accelerator focused on safety and risk in industrial sectors. Our mission is to make the world safer and more sustainable through wider adoption of safetytech.