Webinar replay: Unlocking the potential of virtual reality in maritime training
21/03/2022
Access to ships and simulators can be difficult and expensive, but are essential for ship handling training. Good ship handling skills are essential and critical to improving safety and reducing risk. Watch this webinar recording to find out about how Safetytech Accelerator worked with The Nautical Institute and Kilo to explore solutions to this problem.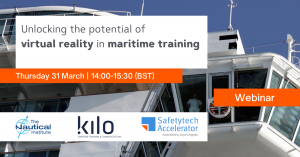 For many years Nautical Institute (NI) members have been challenging the organisation to find ways of improving accessibility to ship handling training. With an aim to start working towards a solution, the Nautical Institute approached Safetytech Accelerator with the challenge of running a project to improve accessibility to ship handling training.
They devised a proof of concept to explore immersive technologies, such as virtual reality (VR) and augmented reality (AR) to create new and exciting possibilities for maritime training, while providing a more cost-efficient, flexible solution to fixed simulators.
Watch this webinar to find out about this exciting proof of concept project in which Safetytech Accelerator worked with Kilo, an experienced developer of Maritime Virtual Environments and training solutions, and The Nautical Institute to find out whether they could positively contribute to the development of ship handling skills, and therefore support operational risk reduction and improve professional development.
Speakers include:
David Patraiko, FNI, Director of Projects for The Nautical Institute
As Head of Research and Relationship for the NI David oversees much of the Institute's work on technical and training issues, and how these convert into Professional Development for individuals and the development of best practices in the industry. He is a regular contributor to the NI's publications, and represents the NI with international organisations such as the IMO and IALA. He is currently the Chair of the Green Award Board of Experts.
Steve Price, Head of Partnerships, Safetytech Accelerator
After a background in Computer Science and Management Consulting Steve has spent the last 14 years advising on and implementing innovation strategy in a variety of organisations across the Public Sector, academia, the third sector and large corporations. He worked with the UK's innovation agency, Innovate UK, for three and a half years where he set up a successful digital programme in Tech City. He led the creation of a smart city based programme for Amey PLC to facilitate them in delivering better services for their clients. Steve is currently Programme Director for Safety Accelerator.
Andy Parkin, Managing Director, Kilo Solutions
After a career in the Royal Navy, Andy left in 2007 to pursue a commercial career within the digital, film and immersive technologies sector. Focused on solving workforce development challenges with contemporary solutions, his knowledge of Maritime needs and Technological capabilities merge to ensure that outcomes are appropriate to the need. His experience has included leading programmes for mobile applications for the Cruise Industry and Virtual Reality Walkthroughs for military and commercial companies, alongside Augmented Reality experiences for the engineering sector. Founding Kilo in 2020, the focus of the business has been on building Virtual Reality environments for the Maritime Sector, that will deliver commercially viable training solutions, accessible to all.
DROP YOUR DETAILS INTO THIS FORM AND WE WILL SEND YOU A RECORDING LINK.