Report: Understanding the UK Industrial Safetytech Landscape
30/05/2023
This report shows that industrial safetytech – innovative digital technologies addressing health and risk challenges in safety-critical industries – is becoming an increasingly important UK technology sector.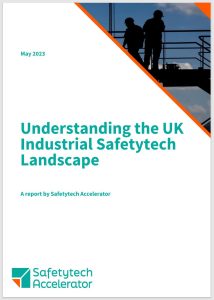 And it is now getting the increased attention in safety critical industries such as construction, transportation and maritime. We are seeing ground-breaking partnerships, such as a new Industrial Safetytech Regulatory Sandbox which connects the UK regulator and major industrial companies with technology companies to explore how regulation can support innovative solutions to critical problems, those between industry and Safetytech Accelerator, amongst others.
Our initial research has revealed that funding for UK startups using new technologies such as AI, sensors, wearables, virtual reality, drones, robots and data analytics to reduce risk and improve safety in industrial settings has increased almost five-fold following COVID-19.
At Safetytech Accelerator we are playing our part in helping drive adoption and the market forward.
Download this report to find out about:
The emerging industrial safetytech scene
Investment into the sector
Workplace safety
The worldwide situation
The picture in the UK
The key challenges and how industrial safetytech can address these issues
Meet a selection of UK industrial safetytech innovators 
We hope that this initial report on the UK Industrial Safetytech market, with particular focus on its role in workplace safety, will be a useful contribution to new business opportunities, investment and growth of this important technology category.
Meet some UK Safetytech players: On the 14th of June, as part of London Tech Week 2023, in collaboration with Discovering Safety – a programme of work led by The Health and Safety Executive (HSE) – we are delighted to bring together speakers from the maritime, construction and aviation industries for a panel discussion on the potential of safetytech in safety critical industries, with a tech investor perspective. Then we will convene a panel of UK technology companies who have developed technology in the category.
Find out more and reserve your place here: https://londontechweek.com/events/saving-lives-with-technology-the-world-of-industrial-safetytech/