Taking Bold Action In Maritime Innovation – Key Takeaways from our Roundtable
18/09/2023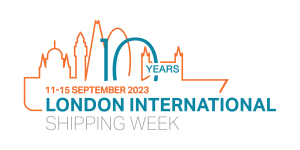 As part of London International Shipping Week 2023, we held a roundtable with leaders from the maritime industry, insurers, renewables, technology and more. We explored several questions around maritime innovation – drivers for innovations, barriers to adoption, and the trajectory we're on.
Here are some of the takeaways from the discussion:
As an industry we need to do more to exploit the potential of emerging technologies. We are most often not seen as an innovative industry, often seen to be reactive and slow to change. It is considered difficult to introduce new technologies and innovation into maritime. Despite this, we are experiencing an unprecedented period of change with innovation being seen as critical to solving industry challenges.
Over the next 5 – 10 years, we expect technology innovation will most relatively affect areas like reducing the environmental impact of shipping, assisting with crew welfare, well-being and training. We also expect technology applications to impact navigation and watch-keeping, voyage optimisation and cargo monitoring.
There are many drivers for change, with perhaps the most pertinent being overall ESG performance including the implementation of climate Regulations such as the Paris Agreement and overall health and safety performance. Additionally, the impact of incidents or geopolitical events will drive change. Technology availability will play its part as will the continuing desire to be commercially competitive.
Maritime's role to be a reliable, safe and sustainable part of the global supply chain was borne out in our thoughts around a future vision.
We hold clear views about what value technology-innovation should deliver related to this vision: enhanced safety, operational efficiency and particularly, increased recognition of technology adoption to reduce the environmental impact of global shipping.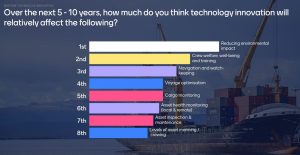 There was quite a bit of discussion around how to be more BOLD. We identified the boldest actions which should be taken:
1. FINANCING CHANGE
There is a lack of access to the finance needed to support the tech-innovation necessary to progress industry aspirations. Proposals to support this funding gap included, creation of an IMO fund, creation of a ship-owner innovation fund or improved access to innovation finance.
2. NEW COLLABORATIONS
Remove potential barriers for collaboration, particularly on safety-critical aspects and those that impact climate change.
Support governmental and inter-regional collaboration
Encourage Regulator engagement within innovation & technology adoption
3. UNLOCKING INNOVATION
Encourage new entrants from other segments into maritime
Provide mechanisms to allow 'big-tech' to take an interest in the industry
Undertake actions to create a change in mentality within industry to encourage innovation, for example encouraging generational change within the industry.
Do you have BOLD ideas for maritime innovation? We'd like to hear from you – please drop a line in the form below and we'll be in touch!