Case study: An open innovation challenge to transform industrial inspection and improve safety of workers
09/12/2022
This pilot was a collaboration with Sellafield, National Nuclear Laboratory (NNL) and RealityAI, to conduct remote inspections in ventilation ducts to identify defects such as perforations. 
The Challenge
According to the UK Health and Safety at Work Act, there is a legal requirement for ventilation systems to be regularly inspected with the findings being recorded. At the moment, ventilation ducting is visually inspected or utilises ultrasonic thickness detection, which comes at significant cost and time with the potential for human error and potential exposure to ventilation hazards if done manually.
This open innovation challenge aimed to use a digital solution to transform ventilation duct inspections and ensure the safety of workers and the environment for decades to come.
Safetytech Accelerator started a search for digital technology companies that could provide continuous remote monitoring of ducting and wider industrial assets in future. Following a thorough international search, 4 companies were shortlisted to pitch their solutions to the challenge partners.
RealityAI, a US-based start-up recently acquired by Renesas Electronics Corporation, was chosen as the technology partner. Their platform has built-in capabilities to analyse sensor data with specific experience interpreting industrial sounds and vibrations.
The Pilot
The pilot centred around monitoring ducting at a non-nuclear NNL facility. The pandemic severely impacted access to the facility but once life started to return to normal, a test rig was constructed using square steel ducts and a powered air filter.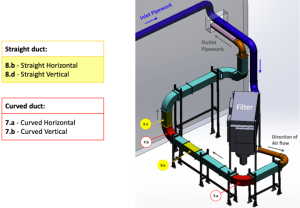 RealityAI hardware comprised of microphones and exciters (sound creator) connected to a data collection device. The equipment was attached to the ducting using powerful magnets.

Whilst access to the facility was prohibited during the pandemic, RealityAI were able to perform some preliminary tests using ducting shipped to their New York lab. This allowed RealityAI to ensure the right type of sensors were selected for final data collection. Once the NNL facility was ready for testing, RealityAI shipped their data collection hardware to Cumbria (UK) for NNL staff to install and operate.
The pilot collected 96 acoustic samples of the ventilation in a variety of operational states with the ducting and flanges being either normal or defective. NNL staff were able to swap out sections of ducting with either normal or perforated sections as required by each test.
The acoustic samples were uploaded to the intuitive yet powerful RealityAI platform which has built in capabilities for data importing, data cleansing, model training, testing and deployment. Models specific to the environment at NNL were trained and a segment of data was held back for validating the AI models at a later stage.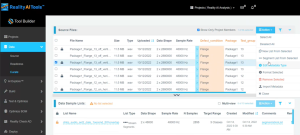 Results
The sound samples were collected using window sizes of 750ms, 1000ms, 1250ms and 1500ms. Analysis showed that the optimal window length was 1s. This means that in production, a defect could be detected within one second with the added benefit of using less computational power than larger window sizes.
Using the 1s window size, the pilot solution performed as follows
Detecting normal operations: 100% accuracy
Detecting loose flanges: 97.6% accuracy
Detecting perforations: 97.5% accuracy
The high levels of accuracy were surprising even to the RealityAI team and more work needs to be done especially around data collection at different times of the day which can affect results. However, this pilot validated using acoustic analysis as a feasible way to remotely and continuously monitor industrial ventilation ducts. This improves on the current practice of occasional inspections by identifying defects immediately and without placing humans into potentially hazardous environments.
"RealityAI worked with Safetytech Accelerator, Sellafield and NNL on this ventilation duct inspection pilot. Over time, we faced various challenges including Covid, but eventually demonstrated the viability of using acoustic sensors to identify defects in a duct system. The results look promising and we now need to conduct testing on a larger scale to prepare and validate the ML models for future use.

 This has been a great collaboration between all parties – which included project planning, instrumentation, data collection and model building. RealityAI looks forward to working on and supporting the project for real-world deployment."

– Nalin Balan (Head of Business Development), RealityAI
Industry-Wide Impact
Beyond nuclear, the acoustic solution piloted in this challenge has the potential to improve safety in industries where duct inspections are critical including manufacturing, pharma and shipping – thus reducing risks to people and the environment.
"Working with RealityAI and Safetytech Accelerator has been a fantastic experience! Despite the need to complete this project entirely remotely, due to the Covid pandemic and geographical separation, the project team have tested and demonstrated that there is real potential in using AI to process acoustic signals to determine potential ventilation duct failure mechanisms. We have been impressed by the reliability of the system in detecting the various defects we modelled. Tapping into NNL expertise in designing, building and operating experimental rigs at their facilities in Cumbria, once again demonstrates the strength of the collaborative relationship between Sellafield Ltd and NNL. NNL is a conduit for innovation into the UK nuclear sector, enabling innovative technologies from SMEs such as RealityAI to be developed into impactful solutions for Sellafield and beyond. We look forwards to building on the excellent work undertaken in this pilot and in supporting the project towards a real-world deployment of this novel application of AI."

– Andy Cooney, Innovation Lead, Sellafield
>>>
About Sellafield
Licensed under the Nuclear Installations Act 1965 and holder of the licence for the Sellafield nuclear site, we are the legal entity responsible for Sellafield, which is owned by the Nuclear Decommissioning Authority.
We are responsible for ensuring that our activities are carried out:
safely, securely and predictably, with due regard for the environment
to the satisfaction of the Nuclear Decommissioning Authority
in the long-term interests of our organisation, our employees, the local communities and our supply chain partners
From cleaning up the country's highest nuclear risks and hazards to safeguarding nuclear fuel, materials and waste, our mission is nationally important. We have more than 2600 buildings and 290 active facilities dating from 1940s to present day including 37km road, 15km railway, 120km sewers and 65km water pipes.
https://www.gov.uk/government/organisations/sellafield-ltd/about
About The National Nuclear Laboratory
The National Nuclear Laboratory (NNL) is a UK government owned and operated nuclear services technology provider covering the whole of the nuclear fuel cycle. It is fully customer-funded and operates at six locations in the United Kingdom. All of NNL's profit is reinvested back into research, skills and infrastructure. NNL's wealth of experience and dedication to pushing the boundaries of science enables the provision of expertise, technology and cutting-edge facilities to organisations around the world.
About RealityAI Software
RealityAI software analyzes complex sounds and vibrations in real- time, using inexpensive hardware. Our patented approach delivers insights 100x faster, uses 1250x less power compared to similar solutions using deep learning.
https://www.renesas.com/reality-ai
About Safetytech Accelerator
Safetytech Accelerator is a non-profit established by Lloyd's Register. It is the first fully dedicated technology accelerator focused on safety and risk in industrial sectors. Our mission is to make the world safer and more sustainable through wider adoption of safetytech.