Communicating accurate ingredient data in school canteens
12/10/2021
This was a pilot project partnering with BWCET, a school trust comprising over 20 schools in the North East of England. BWCET seeks innovative digital solutions to help school pupils, parents and carers find food that is safe for them to eat with all relevant food information they need.
The Challenge
The number of food allergies experienced during childhood is increasing. Many of these allergies are a result of ingredients that are not part of the 14 allergens that must be reported on by law. As a result of this, we want to find a way of providing information to pupils that will improve their ability to make safe food choices.
The BWCET schools always try to make the same dish for any child with an allergy or dislike by removing or replacing the items they can't/won't eat. This way pupils don't 'feel different' and the chef doesn't have to prepare a whole new dish, reducing time inefficiency and resources.
The Solution
UK based Kafoodle provides recipe and menu management software for commercial and single site kitchens. Their cloud-based software effortlessly manages ingredients, recipes, tracks food allergens, calculates nutrition and produces Natasha's Law compliant food labels.
Kafoodle have a growing client base in education who, up until now, have been manually producing tailor-made meal plans for pupils with specific dietary needs. In this pilot they will digitise the ability to search for food types and ingredients to improve communication, safety and negate the labour intensive methods that are currently used. The resulting platform aims to provide peace of mind, consistency and transparency for pupils, parents and carers.
The Pilot
Kafoodle enhanced its existing online Interactive Menus to make it easier for kitchen staff to adapt recipes and allow families to plan school meals in advance.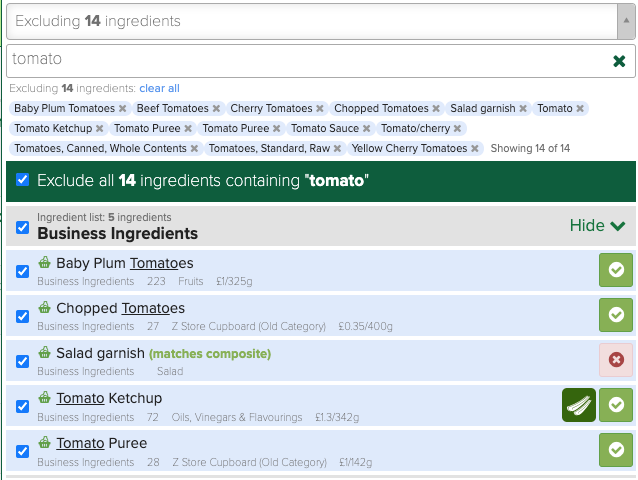 Searches also identify composite ingredients which operate through four levels of nested items. A composite ingredient is a product that is composed of several ingredients. For example, chocolate chips may be an ingredient in a recipe for cookies, but the chocolate chips themselves will be made from sugar, butter, cocoa, etc.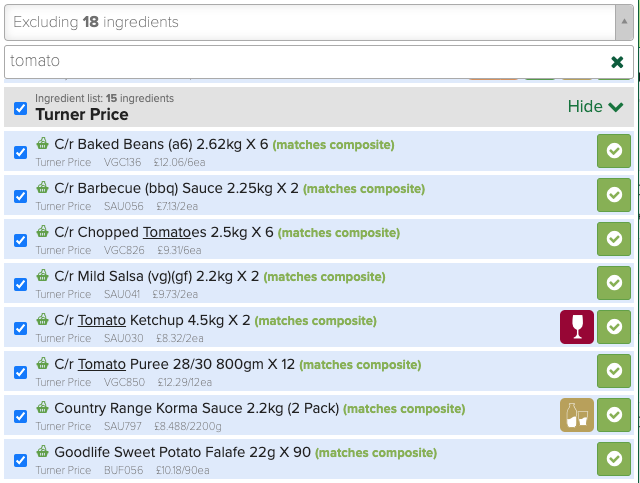 Kafoodle also added a function which allows the user to choose multiple ingredients they wish to include in their search. When used in conjunction with the Exclude field, the user can reduce the number of returned recipes to those that exclude certain ingredients yet include other specific ingredients.
The enhancements required substantial changes to search, user interface and functionality to allow chefs to enter composite ingredient data into the system.
The following user journeys illustrate how different users can interact with the new system:
School kitchen staff
A school chef wants to ensure meals are available for a pupil who has an allergy to a specific food item.
The chef goes to the recipe screen in Kafoodle and searches for the specific food item in the Exclude Ingredients dropdown. After reviewing the results, the chef can choose to exclude one or more of the matching ingredients.
The list of recipes automatically updates to take into account the excluded ingredients. The recipe list now shows only those recipes that do not include the ingredients the chef has chosen to exclude.
The chef can now easily decide to create new meals or modify existing ones for this pupil ensuring every child has a suitable meal.
Parents
A parent wishes to identify which recipes are not suitable for their child. They access Kafoodle either from a URL or by scanning a QR code.
They click the Food Preferences button and enter the ingredient they wish to exclude.
The parent can exclude one, multiple or all matching ingredients. Once all relevant ingredients have been excluded, the parent can save their food preferences and review them in future if required.
Now, any menu items which contain excluded ingredients will be flagged with a red icon.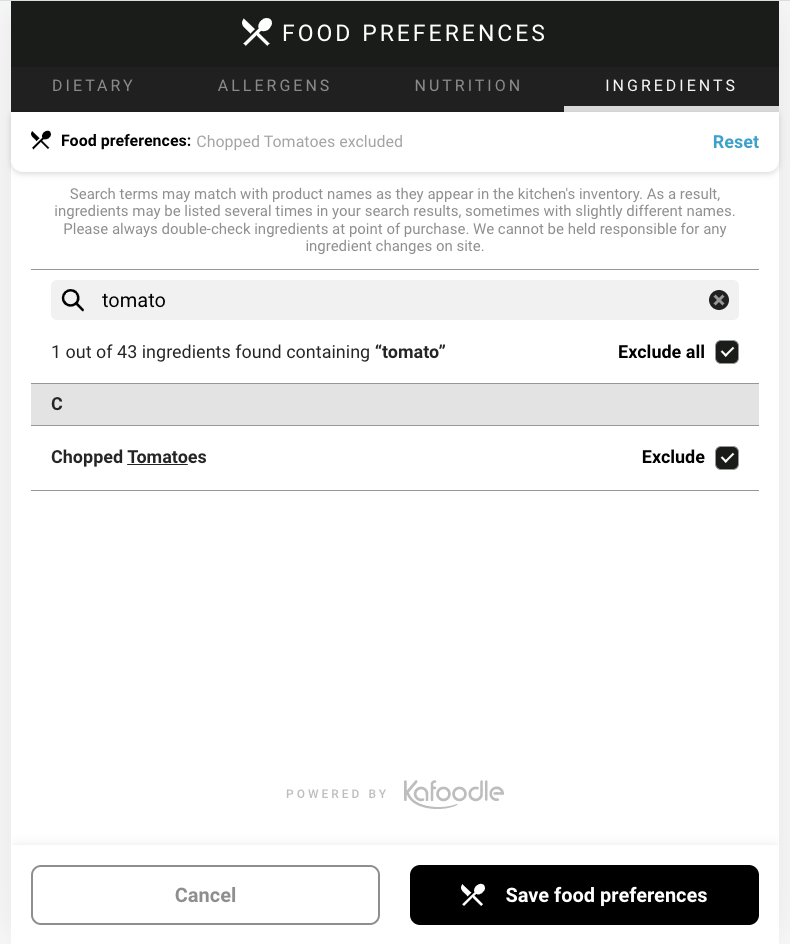 Results
The enhancements in this pilot make it easier for chefs, parents and students to make clear and safe food choices. Chefs can save time by searching for meals in their Kafoodle database which match the requirements they're looking for. They also have peace of mind, knowing that the search will match against the ingredients they use and have named themselves in order to construct their recipes. Excluding by ingredient offers an easy way to ensure that school chefs' menus include menu items for all their pupils, no matter the type of allergy, intolerance or food preference.
Parents and pupils can use Kafoodle's Interactive Menus to see which menu items are safe to eat. One significant advantage is that this can be done ahead of time and does not need to be carried out on the day of purchase. At the weekend, parents can view the school menu for the week ahead and have an informed conversation with their child about which menu items should be purchased.
Feedback on the new functionality was positive from both kitchen staff and families:
"Since the school started using Kafoodle, creating a menu takes a lot less time and it's a much smoother process. The recipes are so easy to put together and the nutritional values and costs are vital information for the school and parents. The interactive menus and the ability to filter gives parents peace of mind if pupils have any allergies or likes/dislikes for certain foods. Being a web based system is also a huge positive for a multi-site business like ourselves"

Luca Tomassetti, Catering Manager, BWCET.

"…my son has several 'dislikes' which he claims are intolerances, but it helps to filter out things that may cause a fuss and direct him which options to choose"

"I wasn't quite clear at first on how to interpret the results. I thought that dishes with the excluded allergens would not show up, but realised that they instead have 'allergens' highlighted in red. On reflection, I like this feature because it gives the user a chance to then talk to the staff about whether the dish could be adapted to exclude the allergen…"

Parents' feedback.

"There has been an increase in childhood allergies over the past few decades. This means pupils often experience allergies to foods which lie outside of the 14 allergens suggested by law. We knew that there was a better way to enable pupils to eat nutritious food which was safe for them to eat. Working with the Safetytech Accelerator was the ideal way for Kafoodle to help schools provide safer food options for their pupils."

Tarryn Gorre, CEO, Kafoodle.
Industry-Wide Impact
Kafoodle's Interactive Menu approach can be rolled out across the education sector at primary, secondary and tertiary levels. This solution saves time and money, whilst giving greater peace of mind to those preparing and purchasing food in educational establishments.
Outside of the education sector, the pandemic has accelerated the growth of order-and-pay apps in restaurants. By including the ingredients functionality tested in this pilot, restaurant apps could provide safer meal ordering for more diners. As Kafoodle already operate in the casual dining sector, they know there is clear demand for this type of service and their solution pairs easy ordering and payment with proven recipe management.
About Safetytech Accelerator
Safetytech Accelerator is a dedicated open, not-profit initiative created by Lloyd's Register Group and Lloyd's Register Foundation, bringing together corporates, startups and the wider technology community to collaborate and accelerate the adoption of safetytech in safety-critical industries.
In early 2020, the Accelerator was awarded the Global Lloyd's List Award for Excellence in Data and Technology Innovation, in recognition of its excellence and impact in innovation, setting it apart from the competition worldwide. The industry-leading panel felt that the programme, the first of its kind globally, embodied everything that the Lloyd's List Awards were established to champion, displaying important and impressive global impact for safety and risk in critical industries, including the maritime sector.