Reducing risk in ports using AI-based video analytics
19/07/2022
In 2021 IronYun and Safetytech Accelerator collaborated to pilot the Vaidio™ AI Vision Platform, with the aim of solving the challenge of improving pedestrian safety in ports and terminal sites of a global ports and logistics operator. 
The pilot was completed successfully, and we are pleased to share how this technology could be employed to help reduce risk in ports.
Background
Ports and terminals are extremely busy places. Cranes and lorries are in constant motion, and there's a constant flow of employees and visitors which need to be kept safe.
Safetytech Accelerator believed that modern artificial intelligence and video analytics could help reduce the risks and launched an open innovation challenge.
The ports operator where we trialled the technology is a leading provider in supply chain logistics across the globe, operating a network of ports and inland terminals across mature and high-growth markets. It has an exemplary safety record and is highly committed to delivering a comprehensive range of services in the safest and most efficient way possible.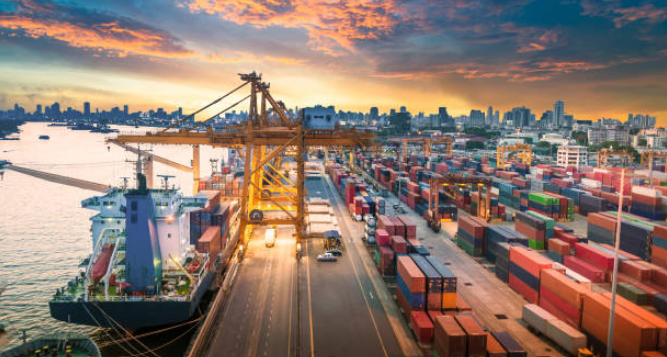 The Open Innovation Challenge
Safetytech Accelerator worked closely with stakeholders to prioritise risk factors. This included getting the ports operator to outline major areas of risk. Examples of this were around pedestrians walking outside of designated areas, or not wearing PPE, or being distracted while using mobile phones.
Other requirements were generated in this phase, including that the platform should be flexible enough to cater for a number of use-cases through configuration (no-code platform), and be able to connect easily to existing CCTV infrastructure.
The requirements defined the technical parameters for the innovation challenge and informed the scouting of suitable video analytics technology providers.
Four high-quality tech startups were shortlisted to pitch their solutions in front of the ports operator and Safetytech Accelerator. Of the four, US based IronYun was chosen to pilot their solution at one of the operator's ports.
IronYun have developed a flexible Video Analytics platform (Vaidio) that supports a broad array of AI-enabled detections such as intrusion, loitering, falls, smoke, fire, occupancy, PPE and more. The flexibility of the platform allowed them to try multiple solutions to improve safety.
The Pilot
The pilot ran during the pandemic but IronYun were able to remotely train the Vaidio platform to detect a set of four risky behaviours using video footage shared by the port under a privacy framework. Footage was captured from existing IP cameras across the trial port site under varying conditions of light and weather.
Vaidio AI models were trained with pre-recorded videos and configured to detect the four dangerous behaviours and verification was performed using additional previously unseen video footage. Vaidio AI successfully passed all tests.
An example of this is that the platform used the trained artificial intelligence models to accurately detect people close to vehicles while using their mobile phone.  The system was configured to generate alerts using email for the pilot but in production this would be changed to more appropriate communication channels.
During the final stages of the pilot, the team were quickly trained to use the platform to see how current behaviours were easily configured and how future scenarios could be created.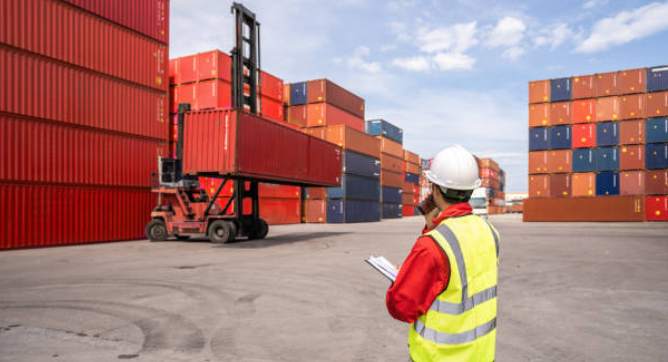 Next steps
The pilot proved to be very successful and showed the potential of deploying these advanced video analytics technologies to prevent serious accidents.
For the final production deployment, the Vaidio platform has the built-in ability to integrate with live video feeds and alerts using their desired communication channels. One of the benefits of Vaidio is that it is an open platform that integrates easily with a port's existing video and camera infrastructure.
Industry-Wide Impact
Ports and other critical infrastructure settings around the world are striving to reach zero harm to people, assets, and the environment. The solution piloted in this challenge has shown it is possible to easily configure a cutting-edge video analytics platform to continuously detect for client-specific dangerous behaviours. The opportunity now exists to scale the rollout of IronYun's Vaidio platform to improve safety and risk management in busy ports and beyond.
Safetytech Accelerator and IronYun will continue to seek opportunities to collaborate on similar safety challenges and welcome anyone interested to get in touch.
>>>
About IronYun
The Vaidio AI Vision Platform from IronYun USA uses next generation artificial intelligence to monitor and analyse real-time and forensic video with superhuman accuracy. Vaidio offers AI-enabled video analytics that are more accurate than competitive solutions in real-world, production environments, reducing false alerts by up to 99.9%. Vaidio is an open platform that integrates with any IP camera and 26 market leading VMSs. Vaidio provides 30 AI-enabled video analytics functions on a single platform, and enables rapid innovation to quickly bring new AI analytics to market.
Vaidio is also extremely resource efficient, reducing solution hardware requirements by 75% or more relative to competitive alternatives. Vaidio's accuracy, functionality and resource efficiency reduces costs, reduces false alerts, and improves security, safety, and operational efficiency. As a result, the Vaidio AI Vision Platform won two coveted New Product Showcase Awards for Mobile Applications and for Video Analytics at SIA's 2021 ISC West, and IronYun was recognized as a Major Player in the 2021 Worldwide Video Analytics MarketScape.
About Safetytech Accelerator
Safetytech Accelerator is a non-profit established by Lloyd's Register. It is the first fully dedicated technology accelerator focused on safety and risk in industrial sectors. Our mission is to make the world safer and more sustainable through wider adoption of safetytech.