Transforming operational risk assessments to better inform personnel.
13/11/2019
The industry-wide pilot trialled a digital safetytech solution to make risk assessment more dynamic and effective.
The Challenge
In safety-critical environments, engineers and other personnel working in high pressure roles rely primarily on their own instincts and decision making, to identify potential risks to safety. Their risk perception can be quite effective, thanks to their training, experience and expertise.
However, personnel cannot independently determine and foresee all operational aspects of a job risk, particularly if the safety risk is invisible to the naked eye, such as radiation, release of pressure, or hidden sharp objects. This industry-wide challenge focused on the assessment, rather than the design and planning of job risk assessments.
The Solution
This Safety Accelerator challenge, set in partnership with Lloyd's Register (LR), one of the world's leading providers of professional services for engineering and technology, sought innovative solutions capable of keeping personnel better informed about operational risks affecting them in real-time in their work environment. The Accelerator and LR also sought to transform the current state of risk assessment from a static exercise to a process that is dynamic, intuitive and real-time.
Berlin-based LexaTexer was selected from 13 applicants for this challenge at an Innovation Day, held as part of the SMM Conference in Hamburg. For the pilot, Lloyd's Register provided LexaTexer with historical incident reports and training records in anonymised form. Some of this data was in the form of unstructured text, written by humans. LR Subject matter experts were also available to assist with domain knowledge in Health, Safety, and Environmental Services (HSES).
The historical data provided by LR was ingested into the LexaTexer machine learning and analytics platform to train the baseline models on safety scenarios. LexaTexer also sourced additional environmental data including weather and natural disasters.
LexaTexer integrated unstructured incident data (text), categorised data and numerical environmental data from numerous sources, to understand the relationships between the various data points. This provided initial insight into when safety related incidents occurred and an understanding as to what the leading factors were.
The Pilot
By analysing the initial data sets, we learned that there were many factors which influenced the probability of a safety related incident occurring. Depending on the targeted KPI the most relevant factors were identified, e.g. To predict the event type, the most significant factors were discovered to be:
Temperature change
Rainfall
Day of the week
Month
Location
For each of the factors above we gained additional insight into
Event types: Near miss, incident, asset damage etc
Body parts affected: Skin, eye, burn etc
Risk rank: Low, high, very high
Risk type: Sharp object, radiation, release of pressure etc
This gives us the ability to mitigate risks, based on past experience.
To further enhance the accuracy of the predictions, Lloyd's Register provided anonymised training records for individuals connected to past incidents. After including this information in the LexaTexer analytics platform, we were able to further improve the quality of an incidents details.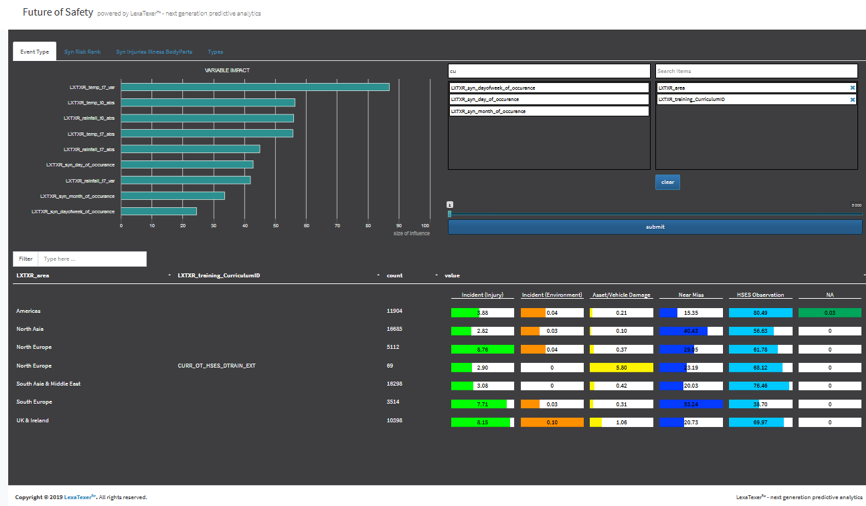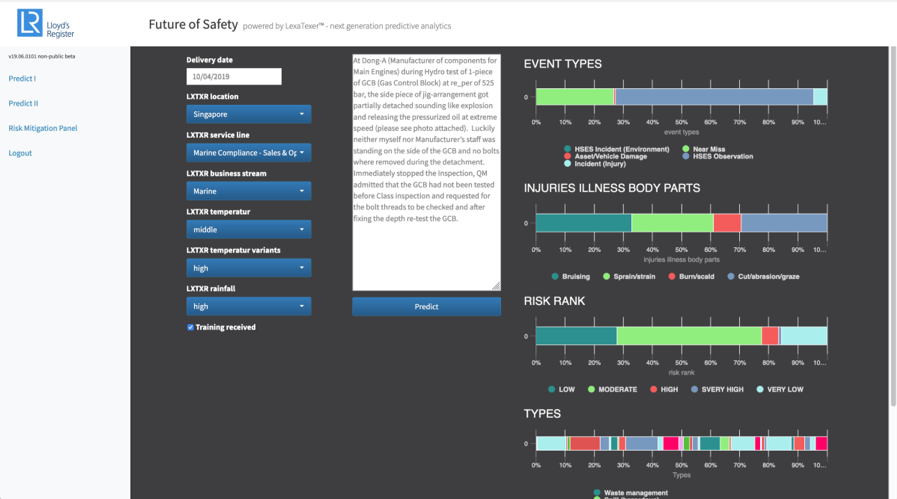 Results
The early screens shown could be used by data scientists and technicians. For infrastructure operators' additional interfaces were designed which gave staff precise advice on how to plan jobs to minimize safety incidents.
"Working with LR provided us with the data, knowledge and market access to build a new product and add an additional vertical to our platform. Highly professional staff and global reach ensured a successful pilot" Dr. Günther Hoffmann, Founder, LexaTexer.
Lloyd's Register and LexaTexer are now working on the next phase of this project to make this highly valuable insight accessible to the right personnel at the right time, maximising its impact on operations and HSE staff.
Industry-wide Impact
The results of this pilot allowed Lloyd's Register to predict the impact of safety-related incidents and to mitigate or avoid incidents. Until recently, knowledge of incidents and some insight as to why they happened was locked in the heads of individuals, who had worked in an industry for their whole career. Now, we have the ability to correlate across incident reports at scale whilst preserving the privacy of those affected. In making this information available to all operational staff, they can make informed decisions that will lead to a reduction in safety related incidents.
About the Safetytech Accelerator
The Safetytech Accelerator is a dedicated open, not-profit initiative created by Lloyd's Register Group and Lloyd's Register Foundation, bringing together corporates, startups and the wider technology community to collaborate and accelerate the adoption of safetytech in safety-critical industries.
In early 2020, the Accelerator was awarded the Global Lloyd's List Award for Excellence in Data and Technology Innovation, in recognition of its excellence and impact in innovation, setting it apart from the competition worldwide. The industry-leading panel felt that the programme, the first of its kind globally, embodied everything that the Lloyd's List Awards were established to champion, displaying important and impressive global impact for safety and risk in critical industries, including the maritime sector.