Report: Accelerating innovation in Safety-Critical Industries.
21/09/2023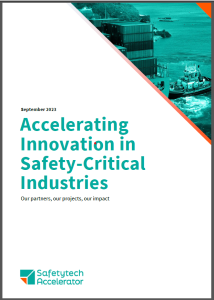 Unlock the potential of tech driven innovation in safety-critical industries with Safetytech.
Our report, "Accelerating Innovation in Safety-Critical Industries. Our Partners, Our Projects, Our Impact "  provides a comprehensive background and insightful perspective on how our transformative work in safety-critical industries can propel your innovation journey forward.
Background
Safetytech Accelerator stands at the forefront of revolutionizing safety-critical sectors, encompassing maritime, construction, energy, and food production. Our overarching mission is to make the world safer, more efficient, and sustainable. Leveraging our profound expertise and 250 years of experience in safety-critical industries, we spearhead innovation.
What You'll Find Inside:
Understanding the Landscape: Gain insights into the background, challenges, and opportunities driving innovation in safety-critical sectors.
Real-World Case Studies: Explore our projects with major organizations. See how cutting-edge technology is transforming safety, efficiency, and sustainability.
Our Impact: Learn how Safetytech is making a difference. Discover our partnerships with global industrial leaders, regulators, and governing bodies.
Ready to Accelerate Your Innovation Journey?
Innovation is the key to progress, but it can also be a challenging and costly endeavour. Often, the best strategy is collaboration. That's where Safetytech Accelerator excels.
We're here to simplify and expedite your innovation journey toward safer, more efficient, and sustainable operations. Ready to supercharge your innovation efforts?
Fill the form below to download your copy for invaluable insights and inspirations!