Webinar replay: Tech showcase – Exploring the potential of robotics in confined spaces inspections
01/11/2021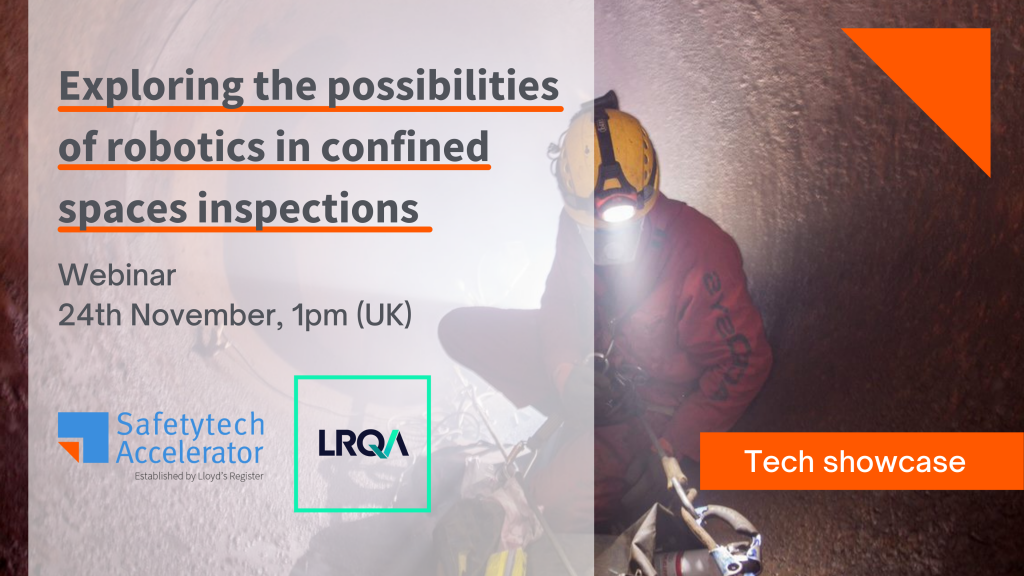 In this webinar we presented an innovative trial programme by Safetytech Accelerator in collaboration with LRQA which explored technologies which can be used to make inspections in confined spaces safer.  
Earlier this year, Safetytech Accelerator announced a collaboration with Lloyd's Register's Inspection Team in the Netherlands to find out how robots can be used for regulatory inspections instead of physical inspections requiring human entry in confined spaces.
The collaboration reviewed scores of technology providers, and after a thorough selection process, announced 5 robotic technology providers to participate in client trials.
The winners deployed their technologies across several real-world inspection trials testing the accuracy of their robotic solutions against human inspections, assessing integrity and compliance. The trials put the robots inside pressure vessels, requiring the robots to manoeuvre around small manholes and metal structures, often with limited lighting all the while being exposed to varying levels of corrosion and mechanical damage.
In this webinar, we are pleased to explore the potential of robotics and the safety benefits which may be gained. We showcase 5 technology solutions which have been used in a specific client project, plus explain how these technologies could be applied.
Agenda
Introduction from Maurizio Pilu, MD of Safetytech Accelerator
Keynote – The potential of using robotics to solve safety problems – Rebecca Allison, Head of Emissions Reduction at Net Zero Technology Centre
Context and real examples of where technology has been trialled – Frank van Bockel, Head of New Product Development at LRQA
Technology showcase – Pitches from the technology providers

Flyability
Flybotix
Hausbots
Invert Robotics
ScoutDI

Wrap up and close
This webinar is in the past – please come back soon to access a recording of this webinar.