An interview with Captain Mohit Sabharwal – a mentor on Waypoint 4: Nearshore
02/05/2023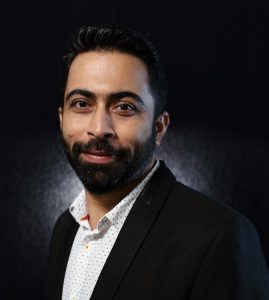 Waypoint is our programme where we accelerate cutting edge technology companies into the maritime market. Through expert mentoring, equity-free pilot funding, and carefully selected introductions, Waypoint assists some of the most innovative and promising maritime startups to strengthen their foothold in maritime.
Our latest programme is Waypoint 4: Nearshore, where we have selected 3 startups whose tech can solve important problems in nearshore operations. In this interview we speak to one of our mentors, Captain Mohit Sabharwal, a master mariner & ESG enthusiast with 20+ years of experience in maritime, and currently at Magellan X in Singapore, about his participation in the programme.
How are you enjoying being a Waypoint mentor, and what are you getting out of it? 
Being a mentor on Waypoint has given me an opportunity to learn more about innovative tech solutions which aim to solve  key challenges in the industry. These challenges were addressed in the past, but now we can harness breakthrough 21st century technologies to make solutions more efficient.
It has been amazing to connect with founders and co-founders who are passionate about contributing and solving real world challenges, specifically unique to maritime and adjacent domains.
Which company are you working with, what is interesting about the tech and what have you been impressed with? 
I am working with a company called Lifefinder. The solution offers an intelligent alert system that saves lives, leveraging advanced IoT solutions, especially designed for workplaces in harsh and hazardous environments.
I'm impressed that their solution can be integrated in wearables, workwear, equipment and more. As we all know, when accidents happen, speed is key. Lifefinder's advanced sensors and software detect and evaluate multiple life-threatening scenarios and send an automatic alarm. The critical information provided ensures that a correct response can be initiated quickly.
What is the added value of Waypoint in your opinion? 
Waypoint is a great platform for founders in the maritime start-up ecosystem who are looking to accelerate their route into the maritime market.
Through expert mentoring which is so much required during the initial stages, Waypoint assists some of the most innovative and promising maritime startups to strengthen their foothold in maritime.
What do you hope the outcome of this process will be?
I hope that the companies use the opportunity to get the value propositions of their solution and services right – with the expert advice we offer them. This might involve big changes or small tweaks. Then they get great exposure to industry leading companies and customers, who then, through pilot programs, test the solution and ascertain the applicability and impact to their own business operations.
Anything else you would like to add?
I'm grateful to the Safetytech Accelerator Waypoint team. The industry needs such initiatives, programs and platforms to enable structured transition, transformation and collaborations to making maritime safer.
Catch up on a webinar to hear from industry experts on Nearshore challenges, and tech companies Awake.AI, Lifefinder and Seadronix.