An interview with Luis Benito – a mentor on Waypoint 4: Nearshore
25/04/2023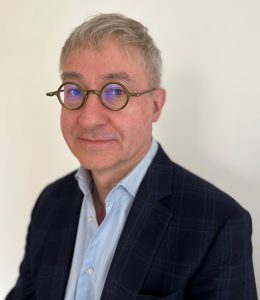 Waypoint is our programme where we accelerate cutting edge technology companies into the maritime market. Through expert mentoring, equity-free pilot funding, and carefully selected introductions, Waypoint assists some of the most innovative and promising maritime startups to strengthen their foothold in maritime.
Our latest programme is Waypoint 4: Nearshore, where we have selected 3 startups whose tech can solve important problems in nearshore operations. In this interview we speak to one of our mentors, Luis Benito, Strategic Account Manager at Lloyds Register – based in Japan, about his participation in the programme.
How are you enjoying being a Waypoint mentor, and what are you getting out of it?
Very much so, I am getting professional and personal satisfaction from being a mentor on the programme.
Professionally, I love to support the maritime industry in tackling the most pressing challenges in the most effective and safe way. I believe the startups participating in Waypoint share the same values. This is rewarding not only for the support this delivers to our customers, but also for the learning I am getting from each encounter. Through sharing views, innovative concepts and ways of working we are all learning together. I am impressed by the calibre of people I'm working with.
Personally, I have a passion to nurture people, to care and share my knowledge, to deliver value for others to grow. I feel Waypoint is giving me this opportunity. The added learning I get from it is a bonus too, helping me to improve mentoring skills – the effectiveness of it – for others to reach their goals in the shortest possible time. Finally, in hearing about how new people approach challenges and practices, I learn from them, both from mentees as well as from other mentors in the program.
Which company are you working with, what is interesting about the tech and what have you been impressed with?
Right now, I am a mentor for Awake.AI I found them equipped with the vision, skills and stamina to change maritime supply chain operating models; by creating insights from data that benefit all participants. Their personal entrepreneurial spirit is perhaps the thing I value most – especially within the maritime industry – where our record of embracing entrepreneurship often needs improvement.
I value the visibility this program gives to the participant companies to creating value: by forming the right multidisciplinary teams required to create the specific value, and by making them work towards reaching ambitious and never achieved before targets and outcomes. This is commendable, a true skill set for the industry 4.0 of digital transformations.
I have found these skills, capabilities and spirit within a range of start-ups and innovation teams in maritime corporations over the last 8 years.  We ought to support these going forward to make maritime a recognised leading industry of great value to the world.
By the way you can hear more from the CEO of Awake.AI as well as the other startups in the programme, Lifefinder and Seadronix, on a webinar on the 3rd of May. Register here.
What is the added value of Waypoint in your opinion?
Waypoint enables more trust in the participant startups. It also equips participants to face the wider industry more openly and confidently – gaining space and time to prove their value, be more considered, and subsequently obtain the skills and resources required to prototype their value proposition for customers, the industry, and the ocean economy. Finally, it should enhance their chances to succeed at scaling their business and transform our world for better.
Anything else you would like to add?
Our world has entered an era of transformation that is affecting everyone's life. Our industry, our businesses need to adapt and transform. The entrepreneurship and intrapreneurship that this type of program augments and supports, is of great value to accelerate this transformation to environmentally friendly, sustainable and compliant businesses, and people.
Catch up on a webinar to hear from industry experts on Nearshore challenges, and tech companies Awake.AI, Lifefinder and Seadronix.