A pilot to explore robotic hull cleaning and inspection technology
17/07/2023
Safetytech Accelerator recently collaborated with Cargill to pilot technology solutions for robotic hull cleaning and ship digitalisation.
These solutions were selected as part of Safetytech Accelerator's Waypoint programme, which accelerates cutting edge technology companies into the maritime market.
Over 100 technology companies were considered for participation in the Waypoint: Maritime Risk round, and six shortlisted to pitch their solutions. Alicia Bots, a US start-up, was eventually selected as one of the technology partners. They were chosen for their underwater RoverClean technology which is designed to inspect and clean hulls whilst a ship is in motion.  
The Challenge
As ships sail across oceans, their hulls become fouled with growth of subaquatic organisms that attach to the hull and this affects a vessel's performance and may contribute to transfer of invasive species. The fouling material should be removed for optimal fuel efficiency and compliance with IMO Carbon Intensity Regulations and Biofouling Guidelines.
Currently, hull cleaning is typically carried out using underwater divers when a ship is stationary at port. Manual cleaning creates a risk for the shore staff and increases the time a ship needs to spend at port. Robotic cleaners exist but they are also limited to port activities.
60% of ports around the world currently do not have access to cost efficient and sustainable hull cleaning services, most European ports also prohibit hull cleaning whilst a vessel is berthed. By countering any fouling building up during voyages, ships can improve fuel savings, reduce downtime, and reduce human-risk.
The Pilot
The Pilot project was carried out on two bulk carriers chartered by Cargill, as they sailed between Singapore, Panama and the US over a period of 5 months  
A Roverclean device with the following features was deployed on both vessels
4 magnetic wheels for adhesion
A cable for power and video transmission
Cleaning brushes at the front and rear
4 single view cameras
A 360° camera
SONAR
A control unit in a hard case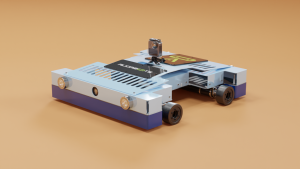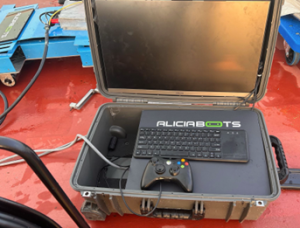 The RoverClean robot was deployed from the midship to carry out complete hull mapping and subsequent cleaning of the ship's sides and flat bottom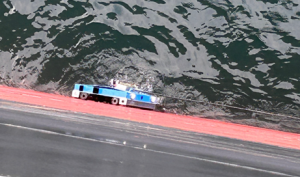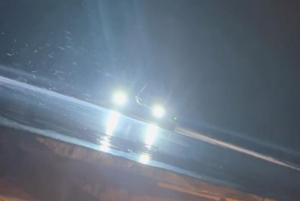 Results
RoverClean was successfully able to
Inspect 100 meters from midship to forward in 45 minutes
Maintain visibility even in darker waters
Detect heavy barnacle fouling, 1.5cm thick and up to 10m long
Detect previous hull damage using its SONAR.
Lessons learned
Plastic material used to protect the electronics was damaged during transit and this was later upgraded to aluminium for improved durability
Although the robot was able to manoeuvre over thick barnacles, upon recovery to the deck it was observed that the tyre rubber suffered heavy damage. Tyres are a consumable item but in future, spares will be shipped in case heavy fouling is unexpectedly encountered.
Some aluminium mechanical components were unable to withstand the strong magnetic forces when the robot manoeuvred over high weld seams. These components were later replaced by stainless steel versions for added strength.
Suspension was upgraded for better traction over welds and thick fouling
11 knots was found to be the ideal speed for cleaning
"Safetytech Accelerator proved to be an indispensable catalyst in building customer traction for Alicia Bots' robotic underwater hull cleaning solution. Through strategic guidance and invaluable industry connections, Safetytech Accelerator empowered us to showcase our innovation to key stakeholders and maritime experts worldwide. Their unwavering support not only accelerated our market penetration but also fostered trust and credibility among potential customers. With Safetytech Accelerator's backing, we forged strategic partnerships and secured multiple pilot projects, solidifying our position as the go-to solution for efficient and eco-friendly hull grooming and inspection. We extend our deepest gratitude to Safetytech Accelerator for their instrumental role in propelling us towards success and revolutionizing the future of maritime robotics." – Inder Mukhopadhyay, CEO of Alicia Bots
Industry-Wide Impact
Currently, 75% of the world's fleet perform hull cleaning only when fuel consumption increases by 7-15%. Having a hull cleaning robot permanently located on a ship allows for more frequent inspections, cleaning and greater compliance with regulations.
Since the start of this pilot, Alicia Bots have begun providing cleaning services in several ports in Asia and Americas to help accelerate hull cleaning. For companies wishing to carry cleaning robots onboard, Alicia Bots now offer training for crews so they can operate the robots themselves. As mentioned previously, most European countries prohibit hull cleaning at port. Alicia Bots are developing bio-capturing features for their robots which may allow them to operate in Europe in the future.
The ship's hold also requires cleaning, Alicia Bots are developing a modular design which can accommodate different payloads for a variety of cleaning and inspection tasks. Cargill are keen to explore the hold cleaning potential in addition to the continuing use of RoverClean.
"We are grateful for the opportunity to have participated in these pilots; and are pleased with the outcomes.  The Safetytech Accelerator Waypoint program provides a platform from which the process of finding and piloting promising new tech is much simpler for us as a user; the effort and timescales were significantly reduced compared to doing it alone. The Aliciabots team have been great to work with: capable, agile and innovative. We have learnt a lot from this project, and we are continuing to work together and to use their solution." –  Chris Hughes, Decarbonisation Specialist at Cargill
Read more Safetytech Accelerator case studies here.
>>>
About Cargill Ocean Transportation
Founded in 1956 in Geneva, Cargill Ocean Transportation is a leading freight-trading organization and charterer of approximately 650 vessels at a time. Each year, our ships make around 4,000 voyages and move around 200 million tons of dry and wet bulk commodities around the world. Our global, multi-sector operations enable us to maintain a unique view of international trade and deliver first-class, customer-focused solutions. Together with our partners, we are committed to making zero carbon shipping a reality.
About Alicia Bots
Alicia Bots delivers a solution to the maritime industry by offering multipurpose robots designed for accomplishing high risk maritime tasks, such as hull cleaning and inspections.
About Safetytech Accelerator
Safetytech Accelerator is a non-profit established by Lloyd's Register. It is the first fully dedicated technology accelerator focused on safety-critical industrial sectors. Our mission is to make the world safer and more sustainable through wider adoption of Safetytech.
Waypoint is Safetytech Accelerator's programme to accelerate cutting edge technology companies into the maritime market. Through expert mentoring, equity-free pilot funding, and carefully selected introductions, Waypoint assists some of the most innovative and promising maritime startups to strengthen their foothold in maritime.