Exploring robotic solutions to remove need for humans to conduct inspections in confined spaces
12/04/2022
This pilot in collaboration with LRQA (formerly Lloyd's Register Business Assurance and Inspection Services) sought to develop new and revolutionary robotic tools to perform inspections inside pressure vessels.
The Challenge
For the past 50 years, LRQA was responsible for carrying out pressure vessel inspections on behalf of the Dutch government. This is a human critical task with inspections being carried out by surveyors entering confined spaces and visually identifying problems such as corrosion and cracks.
Pressure vessels are built to hold liquids or gasses at a pressure substantially different from the ambient pressure. Even though vessels are cleaned and de-gassed prior to inspection, they can be large, dark and contain metal structures so pose safety challenges for surveyors who enter them.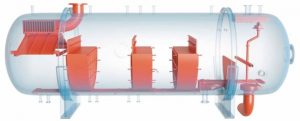 The incentive to remove the need for surveyors to enter pressure vessels was already clear, and this was further accelerated by the covid pandemic. LRQA was keen to turn this challenge into an opportunity to develop remote inspections techniques, using a variety of robotic solutions.
The Solutions
Safetytech Accelerator worked closely with the LRQA team to outline the technology parameters for the challenge, before sourcing nineteen startups who were developing technologies for confined space inspections. From these applications, the most promising startups were shortlisted to pitch their solutions in front of LRQA and Safetytech Accelerator.
Five startups were selected to trial their solutions in the Netherlands.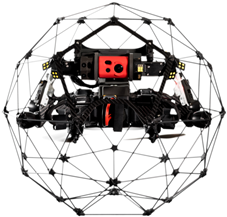 Flyability's Elios 2 from Switzerland is a drone specifically designed for indoor inspections. It is collision-resilient and houses shockproof payloads making it ideal for confined spaces.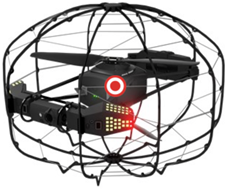 The Flybotix Asio from Switzerland inspects assets across a wide range of industries. It uses just two rotors to reduce noise and power consumption. It also has stability and wall tracking features for easier use.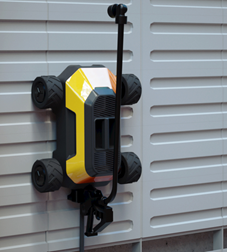 The Hausbots tethered crawler from the UK can climb walls to perform inspections and maintenance tasks. Hausbot uses a pressure differential suction allowing it to adhere to any surface.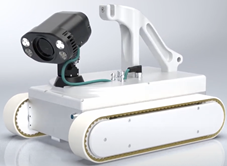 The Invert Robotics tethered crawler from Ireland enables non-destructive inspections in confined spaces. The family of robots use vacuum suction and magnetic adhesion for flexible deployments. Many NDT capabilities are offered including ultrasound and laser surface scanning.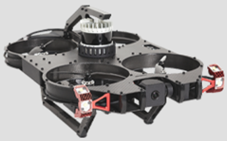 ScoutDI's drone from Norway is designed for inspection of dark, confined spaces. It is tethered allowing it to offer unlimited flight times and uses LiDAR for accurate measurements and navigation.
(Watch a webinar with the tech companies here.)
The Pilot
Four industrial partners joined the challenge and kindly made their pressure vessels in the Netherlands available for trials towards the end of 2021. The industrial partners were:-
Allnex – A German industrial coating resins company
Sabic – A Saudi Arabian chemical manufacturing company
Tronox – A US titanium dioxide producer
Each of the five startups deployed their technologies across one or two carefully selected sites to identify corrosion and mechanical damage. A variety of pressure vessels were made available for trials including steam boilers, hot salt pressure vessel, gas cogenerators, nitrogen pressure vessel and glass lined storage pressure vessel.
Robots were placed inside the pressure vessels requiring them to manoeuvre around small manholes and metal structures, often with limited lighting. The trials tested the robots' dexterity and ability to return images from all areas of the vessels for comparison with human inspections.
Results
After the trials completed, anonymised feedback was collected from participants.
What did you experience as positives from the trials?
Most partners were surprised at how clear the robot video image were – "The improvement in camera resolution and even clear images in a dusty environment"
What, in your opinion, are points of improvement?
Several industrial partners said they would like to see longer flight times for drones. "10 minutes is short if you want to do a thorough inspection in a cogeneration boiler. Rooms are big and in-between the bundles we have a lot of pipeplate divided chambers" 
Feedback from the startups
"We gained the chance to have discussions with inspectors and site engineers … we have lots of learnings to take away to improve our offering" 
Feedback about the Safetytech Accelerator programme
"Played a major role in advancing inspection techniques in this part of the world" 
Industry-Wide Impact
Do you see wider adoption of robotic inspections in confined spaces?
"It is certain that this way of inspection will take over physical inspections, to lower the risks"
"Surely we will implement drone-inspections more frequently in the future, especially for hazardous chemical vessels and pressure equipment" 
"Every inspection by drone or robotic inside a vessel which prevents entry by a human is a win" 
Want to know more? You can access a recorded webinar on this project here.
>>
About LRQA
By bringing together unrivalled expertise in inspection, certification, brand assurance, cybersecurity and training, we've become a leading global assurance provider.
From independent inspection, certification and auditing; to training and technical advisory services; to real-time assurance technology; to data-driven supply chain transformation, our innovative end-to-end solutions help our clients negotiate a rapidly changing risk landscape – making sure they're shaping their own future, rather than letting it shape them.
About Safetytech Accelerator
Safetytech Accelerator is a non-profit established by Lloyd's Register. It is the first fully dedicated technology accelerator focused on safety and risk in industrial sectors. Our mission is to make the world safer and more sustainable through wider adoption of safetytech.